The Residency Program is the heart of Kaatsbaan's mission and is open to national and international, emerging, mid-career, and established dance professionals.
Residencies are recognized as one of the most effective ways to provide a productive and creative working environment for dance companies, choreographers, dancers, composers, and all dance related artists.

Residencies can be for a weekend or multi-weeks in length. Kaatsbaan is a year round operation. All facilities are heated and air-conditioned.
Facilities available are:
3 professional dance studios, 60 x 65 ft, 50 x 50 ft, 30 x 20 ft

The Dancers' Inn, accommodates up to 36 guests

Gate House with kitchens, living rooms and additional bedrooms

Theater, 160-seat black-box theater for full productions, open rehearsals, showcases, works in progress, technical rehearsals, with a performance stage 60 x 65 feet that can be adjusted to artist's performance requirements.
Residencies are individually designed between the artists, Kaatsbaan, and partners to fit the needs of the dance artists or company.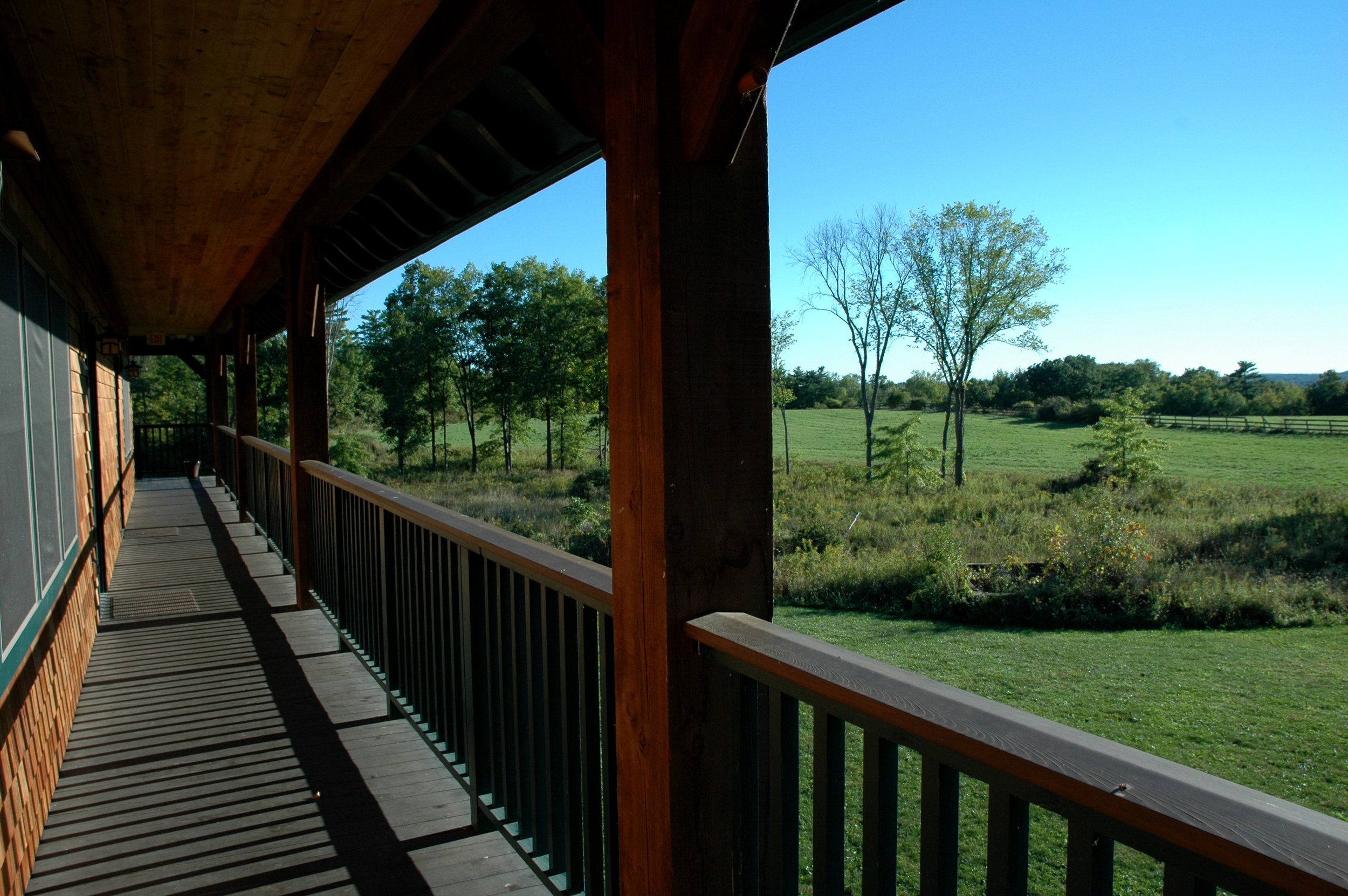 March 2019
Malpaso (in partnership with The Joyce Theater)
Calpulli Mexican Dance Company
April 2019
Zvi Dance
• Open rehearsal: 4/11 at 2pm (free and open to the public)
MorDance
• Open rehearsal: 4/18 at 2pm (free and open to the public)
Aszure Barton & Artists
Boy Friday (UpStream® Residency)
May 2019
Nathan Griswold & Ana Maria Lucaciu
• Open rehearsal: 5/30 at 2pm (free and open to the public)
RudduR Dance (UpStream® Residency)
June 2019
LaneCoArts
BalletNext
August 2019
Attic Projects/Luke Murphy
Co•Lab Dance/Lauren Post (with dancers from American Ballet Theatre)
September 2019
Alejandro Cerrudo
ABT Studio Company
October 2019
Les Ballet Afrik (UpStream® Residency; Commissioned by Works & Process at the Guggenheim)
Flamenco Vivo Carlota Santana
Vivo Ballet (UpStream® Residency)
November 2019
Makers Dance Company/Alexandre Hammoudi (with dancers from American Ballet Theatre)
December 2019
Vanaver Caravan
Residencies are by application or invitation.
Choreographers, dance companies, and all dance artists are invited to submit a brief letter of introduction by email outlining their project, specific residency needs and intended accomplishments. Include the proposed length of time, number of artists involved, studio needs, and any proposals for outreach, workshops or performances. Please state if you are a non-profit organization, have an umbrella relationship with a nonprofit organization, are an LLC, or are operating as an independent artist. Letters of introduction should be no more than two pages in length. Please include web links to your work or a DVD.
Kaatsbaan is a 501 (c) 3 nonprofit organization thus, all programs, performances, and activities must have a source of funding. Partner organizations, foundations, and individual donors who have an interest in a specific artist are potential resources for funding. Kaatsbaan tries to make residencies as affordable as possible to other non-profit artists and organizations in the field however, subsidizing all residencies is not within our financial capability.
Fees are tailored to fit a company's size and facility use. Studios and housing needs, lighting and technical requirements, and time of year are considered with residency fees. Fees assist the host organization with insurance requirements, utilities such as electric and heating, and maintenance and cleaning.
UpStream® Residency Awards
Kaatsbaan UpStream® Residency Awards are designed to support all stages of professional dance development through 1 week residencies at Kaatsbaan.
UpStream® residencies are open to emerging professional choreographers and dance companies who seek time and space for creating new choreography, rehearsing repertory, building productions, showcasing works in progress, and presenting finished performances.
All dance styles and projects of any size will be considered with no specific requirements for artistic content. The selection process will focus on the specific need for large studio space and comprehensive residency time. Professionalism is a high priority and artists are expected to utilize the facilities and their time by working full days during the residency.
Selected artists will be given full use of the Studio Complex at Kaatsbaan. One studio will be available at all times. Housing for company members is provided at the Dancers' Inn and kitchen facilities in the Gate House. Space for site-specific works will be accommodated. $500 will be given to each company to assist with transportation and expenses.
Each artist or company will perform on the final Sunday of their residency in the Kaatsbaan 160-seat black box theater. Performances can be showcases or fully produced productions as per artist's needs. Open rehearsals and master classes will be scheduled as requested.
UpStream® Residences are funded in part by the New York State DanceForce which receives funding from the New York State Council on the Arts Dance Program.
Application Deadline for Fall 2019 and Spring 2020 is June 1, 2019
Download: UpStream® Residency Application
To submit proposal or for more information please contact info@kaatsbaan.org
Past & Present Residency Partners
American Ballet Theatre: Martine van Hamel, Kevin McKenzie, Julie Kent, Paloma Herrera, Marcelo Gomes, Gillian Murphy, Angel Corella, Amanda McKerrow, Michelle Wiles, Ethan Stiefel, Susan Jaffe, Hee Seo, Daniil Simkin, Stella Abrera, Isabella Boylston, Misty Copeland, Herman Cornejo, David Hallberg, Xiomara Reyes, Cory Stearns, Ashley Tuttle, James Whiteside, Robert Hill, Keith Roberts, Joseph Gorak, Alexandre Hammoudi, Sarah Lane; ABT Studio Company; Anna Liceca; Craig Salstein; Genady Saveliev; Thomas Forster; American Ballroom Theater; Abarukas - Yoshito Sakuraba; Alpha Omega Theatrical Dance; Anti-Gravity; Aszure Barton & Artists; Attic Projects -Luke Murphy; BalletNext; BattleWorks Dance Company; Julian Barnett Dance; Kimberly Bartosik Dance Company; Jeanne Bresciani; Brian Brooks Moving Company; Bridgman/Packer Dance; Buglisi Dance Theatre; National Ballet of Canada: Rex Harrington, Carolyn Dorfman Dance Company; Christopher Williams Dance; Dances Patrelle; Company XIV; Danny Grossman Dance Company; David Parson Dance Company; Denishawn Repertory Dancers; Doug Elkins Dance Company; Doug Varone and Dancers; Dusan Tynek Dance Theatre; The Eifman Ballet - St. Petersburg, Russia; Ellen Sinopoli Dance Company; Eiko & Koma; Elisa Monte Dance; Erica Essner Performance Co-Op; Flamenco Vivo/Carlota Santana; The German Forum; Gina Gibney Dance; The Martha Graham Dance Company; Heather Harrington Dance Company; Babette Hierholzer, pianist; INSPIRIT, a dance company; Jessica Lang Dance; Johannes Wieland Dance; Joffrey Ballet: Anne Marie DeAngelo; Christian Holder; Keigwin + Company; Peter Kyle Dance; Sun Ock Lee Kun-Yang Lin/Dancers; The Limon Dance Company; Lar Lubovitch Dance Company; Lynn Barr Dance; Maureen Fleming; Melanie Marr Dance Company; Jennifer Muller/The Works; NACRE Dance Company; NAYA Dance; New York City Ballet: Damian Woetzel, Wendy Whelan, Nilas Martins, Monique Meunier, Joaquin de Luz, Albert Evans, Jenifer Ringer; New York Theatre Ballet; nicholasleichterdance; NOA Dance; Pascal Rioult Dance Theatre; Stephen Petronio Company; Royal Winnipeg Ballet: Evelyn Hart; Pam Tanowitz Dance; Pilobolus Dance Theatre; Project 44; David Parker & The Bang Group; Project Ballet Theatre; Paul Taylor Dance Company; Patrick Corbin, Thomas Patrick, Ted Thomas, Michael Trusnovec; Spellbound Contemporary Ballet; Take Dance Company; 10 Hairy Legs; Terra Firma Dance Theatre; Time Laspe Dance/Jody Sperling; TOPAZ Arts; The Vanaver Caravan; Nego Gato Afro Brazilian Ensemble; Zaccho Dance Theater; Pick Up Performance Company; Yoshiko Chuma The School of Hard Knocks; ZVIDANCE; Danny Carroll; Donald Saddler; Christine Dakin; Terese Capucilli; James Sewell; David Grenky; Jamie Bishton; Daniel Linehan; Rasta Thomas; Jennifer DePalo; Miki Orihara; Boy Friday; Calpulli Mexican Dance Company; LaneCo Dance; Malpaso Dance Company; MorDance; RudduR Dance